New Procedures And Services For Corona New Normal

Premiair Group
04 Aug 2020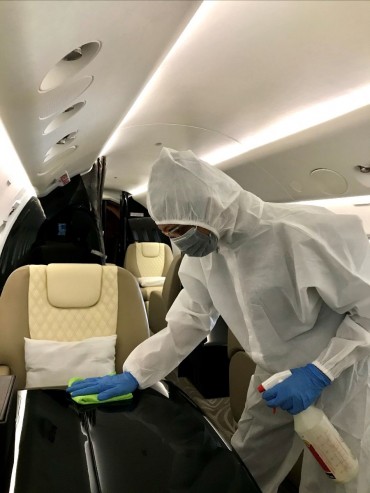 Aircraft Interior Full Disinfectant
Traveling is now easier, but still strictly monitored and regulated, also currently the regulations is constantly changing, be sure to contact us for any inquiries and regulation update.
Our Commitment & Service Enhancement
Ensuring the service quality for our customer has always been our commitment, analyzing the changing needs, we improves our services and enhance safety precautions to cater our clients requirements as required by applicable health protocol, we take best care of our clients, crews and aircraft's, before, during and after flights.

The adaptation start with our employee, applying physical distance policies between employees and providing protective materials at workplace such as face masks, we also conduct mandatory temperature check for all individual before entering Premiair group facilities. counseling by experts for COVID 19 related topics are given equally to all employees to spread awareness.

Our executive lounge have also been prepared, all chinaware and utensils are cleaned thoroughly with food-grade disinfectant washing liquid, and during preparation of food staff are required to wear standard protective equipment.
Safety as Priority.
Safety comes first, further improving the safety and needs of our clients during this pandemic, it is mandatory for our employees to equip themselves with personal protective equipment during handling and serving as part of safety measures. health and safety assessment by our safety and quality team is maintained daily for all employees, clients can rest assured that everything is safely taken care of.
Safeguarding Our Facilities
We safeguard our lounge and all facilities by regularly clean and spray it with disinfectant in order to maintain a virus and hazard free environment for our client and employees. accessible hand sanitizer are spread across our facilities.

In order to comply with current health protocol, without reducing the level of comfort for our customer, new seating arrangement in our lounge and facilities are made to accommodate physical distancing.
One Stop Crew Assistance.
Other than meet and assist services and fast track CIQ Services, we are now providing PCR and Rapid test for COVID 19, client and crew can now be tested in our private clinic facilities upon request, we partnered up with global licensed private clinic to provide the best and convenience COVID 19 Rapid and PCR test. With our private facilities, our intention is to create maximum comfortability and in the same time maintain all passenger and crew safety, clients and the crews can minimize unnecessary interaction, and result for Rapid test can be obtained immediately and only one day after test for PCR test.
Our clients can also request a Limousine Services for Crew and Passenger for pick up, drop off or rental, with many variants of vehicle as options, ranging from luxury SUV to Sedan depending on the need, by constantly monitoring all of its cleaning process we can make sure that every vehicle requested is a safe and hazard free vehicle, so clients can sit back and enjoy the ride.
Aircraft Interior Full Disinfectant
Although all modern aircraft is equipped with HEPA (High Efficiency Particulate Air) filters which clears out the cabin in the air from airborne viruses and microbes, unfortunately these filters does not clean any surface that are interacted or infected by viruses, The International Air Transport Association (IATA) requires all aircraft to have a thorough disinfectant cleaning after each flights.
To provide one stop ground handling services we develop and improve our regular Cabin Cleaning to Aircraft Disinfectant Cleaning, the cleaning now emphasize on the surface cleaning of the interior to disinfect any surfaces that are in contact with viruses and microbes, for the job we uses aviation approved disinfectant that are highly effective in cleaning off all harmful virus and microbes including COVID 19 Virus, we also trained our staff to clean every spot of the aircraft so that after every cleaning our clients no longer have to worry for any safety risks coming from the aircraft.